Hi guys! I know I haven't posted for what feels like agesss so I thought I would do a Grabble post, it is going to be quite similar to my ASOS posts so I hope you like it. I am going to school at 1:45 so I might be able to do a Polyvore some of the clothes I choose so I hope you like it. It is a sort of which list type post. Although I have used Grabble it takes me to the actual website where the product of from. ALL OPINIONS ARE MY OWN AND INFORMATION ARE OFF THE WEBSITES. All deliveries are for the UK only. All sizes and stock listings are right at the time of posting.
I don't really use a bag but I'm starting to see these gorgeous bags! Like seriously I need this bag! The worst thing is its quite expensive. I love the maroon colour, that is the picture. It is also available in black which would go with a lot more things. (I don't have delivery information for this product)
Marc B Oversize Tote Bag
£69
Interior phone slip pocket fits all popular brands including iPhone and Blackberry.
Small zip pocket in center compartment for valuables
Marc B signature leopard print lining
Classic Marc B removable gold heart included
The handle drop is 15cm, height of the bag is 32cm, width 38cm, depth 18cm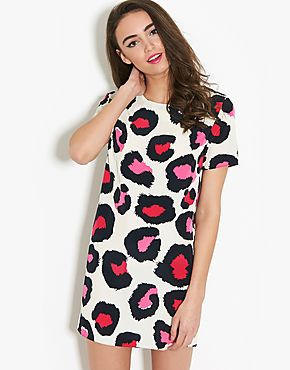 This dress is perfect! Although it is short I love the pattern of it, the pink and red go so well with the white. You could wear it during the day or even on a night/party. The is made by Zack and is available in Bank
John Zack Leopard Print Shift Dress
£35
A white shift dress featuring large leopard print
A rounded neck line
Short sleeves
Mini length
100% polyester
The model is wearing a size 8
sizes 8, 10, 12, 14 available
Delivery:
Standard (within 4 working days) - £3.99/free if you spend over £50
Next Day (before 8pm Mon-Fri and 6pm Sun) - £5.99/free if you spend over £75
This shirt is gorgeous! I love the lace in it! Might just have to ask mam to get me it, I love how it is so simple but still looks gorgeous.
Ivory Lace Insert Boxy Shirt (Dorothy Perkins)
£25
£15
the item is currently out of stock on the website, I'm sure it will be in stock in the stores.
I don't really have time to post anything else so if you want to see what other clothes are on my grabble
Click Here
Much Love
Niamh xoxo